Assist. Director - HR & Volunteers Management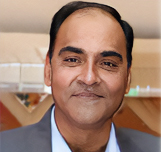 Prashant Singh is a graduate of Allahabad University and a Postgraduate in IR and Personnel Management from Mahatma Gandhi Kashi Vidya Peeth, Varanasi.
Prashant has over 20 years of multifaceted experience in Human Resources Management in the service industry, including logistics and finance. He has also been an entrepreneur for a short time. Throughout their professional career, his key focus has been on employee relations, talent retention, optimal utilization of resources, and organizational development.
This is Prashant's first venture into the social sector and he is passionate about making a difference. 
He can be reached at Prashant.Singh@udayancare.org and +91 98737 69519.