LAUNCH OF THE JOURNAL
In March 2014, Udayan Care launched a bi- annual academic journal 'Institutionalised Children: Explorations and Beyond' (ICB) to deliberate on policy, practice and gaps in family strengthening and alternative care for children and youth without parental care. Since, the year 2020, this journal is being published in partnership with SAGE Publications (Los Angeles, London, New Delhi, Singapore, Washington DC and Melbourne). In 2023, ICB journal is completing a decade of compiling and publishing regional evidence. The journal's regional focus is on the eight South Asian countries - Afghanistan, Bangladesh, Bhutan, India, Maldives, Nepal, Pakistan and Sri Lanka and follows a double anonymized peer review process. It is a member of the Committee on Publication Ethics (COPE). Access the ICB journal Page @ https://journals.sagepub.com/home/ICB
So far 19 issues of the journal have been released and we are now ready to release the twentieth issue, Vol. 10 No. 2, in September, 2023. Since, the year 2020, this journal is being published in partnership with SAGE Publications (Los Angeles, London, New Delhi, Singapore, Washington DC and Melbourne). We are also currently accepting abstracts for the March and September 2024 issues, with focus on mental health, alternative care and family strengthening. Make sure to book your subscription to ICB in order to engage with knowledge sharing with regards to alternative care of out of home care children in the South Asia region!
The 1st issue of the journal was released at the seminar 'Institutionalised Children: Seminar on Standards of Care and Mental Health' at Amity University, NCR, India, organised by Udayan Care with a host of partners and sponsors. 
MISSION OF THE JOURNAL
To create a rich platform for sharing discourses related to laws, practices, and evidence-based research, regarding alternative care for children and youth without parental care and family strengthening in South Asia to serve the purpose of developing dialogues and debates amongst practitioners, academics, researchers, policy makers, advocates, activists, and volunteers. The journal aims to improve standards of care and mental health practices that enhance the delivery of services in alternative care settings in the South Asian region.
VISION OF THE JOURNAL
To evolve as the most comprehensive and sought after journal for South Asian countries that examines and addresses all issues related to Alternative Care for children and young persons in the region, as well as from an international perspective, from the lens of policy, legislation, jurisprudence, case law reviews, good practices, expert interviews, research, and future directions to improve the lives of children and youth without parental care.
SCOPE OF THE JOURNAL
To address limitations in research, knowledge and counselling practices, currently prevalent in the south Asia region
To influence policy reforms, decision-making and to improve practices and standards of care
To encourage the integration of children and youth without parental care, into the mainstream society
PERIODICITY
The Journal ICB is published six monthly, first in spring (March) and thereafter in fall (September).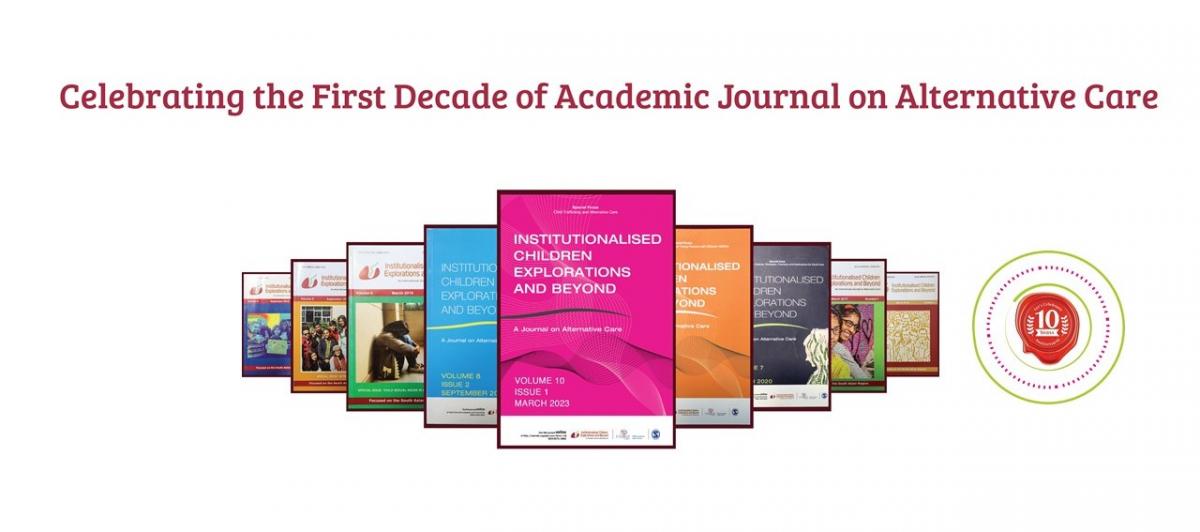 The journal has been indexed/abstracted with the following:
Sources: Journal Citation Reports (Web of Science Group, 2019), Scopus®, 2018 release and Google Scholar.
EDITORIAL BOARD
Editor-in-Chief: Monisha C. Nayar-Akhtar, Ph.D.
International Liaison Editor: Kiran Modi, Ph. D.
Associate Editor: Luis Aguilar Esponda, LL.M.
Associate Editor: Rajeev Kumar
Movie Editor: Lakshmi Madhavan, M.Sc.
 
COUNTRY EDITORS
Bangladesh: Md Enamul Haque, Deputy National Director, SOS Children's Villages International, Bangladesh
Pakistan: Seema Arif, Ph.D., Associate Professor in Department of Education at School of Social Sciences & Humanities in University of Management & Technology, Lahore, Pakistan
Sri Lanka: Mallika R. Samaranayake, Technical Lead, Child Protection in Crisis (CPC) Learning Network and Founder Member / President - Community of Evaluators (CoE) South Asia Network and Founder Member / President - Community of Evaluators (CoE) South Asia
Nepal: Sumnima Tuladhar, MA, Executive DirectorChild Workers in Nepal Concerned Centre(CWIN)-Nepal
ADVISORY BOARD
Hiranthi Wijemanne, M.D., Member, U.N. Committee Rights of the Child (Sri Lanka)
Sumedha Gupta Ariely, Ph.D., Assistant Professor of the PracticePsychology, Duke Global Health Institute (USA)
Sushama Sharma, Ph.D., Professor of Special Education (Retd.), Department of Education, Kurukshetra University
Vikram Dutt, Ph.D.,Founder, Manovikas Social Work (India)
Maria Rosaria Centrone, M.A., Researcher and Policy Analyst (Germany)
Ian Anand Forber-Pratt, MSW, Director of Advocacy - Southeast Asia, Children's Emergency Relief International (USA)
N. Janardhan , Ph.D., Assistant Professor, Psychiatric Social Work National Institute of Mental Health and Neurosciences (India)
Jhuma Bhasak, Ph.D., Psychoanalyst; Member, International Psychoanalytical Association, London
S.P.K. Jena, Associate Professor, Department of Applied Psychology, University of Delhi, India
Zubair Meenai , Professor, Department of Social Work, Jamia Millia Islamia, New Delhi, India
WHO WILL BE INTERESTED?
The journal will be of interest to board members, managers, caregivers, psychologists, counsellors, psychiatrists, volunteers, and social workers, in governmental and NGO organisations, as also to policy-makers, and university faculty who are interested in the care and study of children in institutions, as well as in other alternative forms of care. Students in social work, psychology, law and other related disciplines across the South Asian countries, as well as other mental health professionals interested in these studies will find the journal useful.
CALL FOR PARTNERSHIPS
A substantial scientific basis for institutionalised children's concerns might exist; research might have advanced the understanding of such children's issues and made major contributions to improve their quality of life. Nevertheless, there is still a lack of coordination and dialogue across SAARC countries, policy planners, professionals, caregivers, volunteers, as well as academicians. At the same time, there is a need to strengthen mental health care as well as research related to it. Towards this endeavor, we seek support from experts and professionals in the field;
You can help us identify good academicians, practitioners, medical specialists and professionals in child care, from across the world, who can be part of the Editorial Board.
You can make use of your global network to recommend good writers, researchers, practitioners and government officials to contribute research papers and articles for the journal. Since the publication of the journal will be on a long-term basis (2 issues every year), we will develop a bank of research papers, which will be published at later dates if not in upcoming issues.
Help us expand on our list of eminent people who can join our peer-review panel, to expertly review the contributions we receive. We highly value the contribution of peer reviewers of the journal as the essential gatekeepers of its standards. We are pleased to announce that for your review, we have arranged with our publisher SAGE to offer you free access to all SAGE journals for 60 days upon receipt of your completed review and a 25% book discount on all SAGE books ordered online. We also accept recommendations for experienced reviewers with subject matter expertise in the area addressed in this submission.
We also receive monetary support to meet the costs of publication.
We are looking forward to developing institutional and corporate partnerships. We are open to the idea of developing this publication in collaboration with your organization, which we will subsequently mention in the tagline of the journal itself.
YOUR participation is crucial to the success of this landmark journal. We request you to come aboard as a sponsor of an issue. Needless to say, by this generosity, you will not only be aiding us in our cause, you will also be promoting your own CSR and philanthropic vision. We are open to sponsorships, both in cash and kind. For instance, if you can get the printing done for one issue at your end, it will be a contribution.
We are open to sponsorships, both in cash and kind. For instance, if you can get the printing done for one issue at your end, it will be a contribution.
For any queries, please feel free to get in touch with:
Dr. Kiran Modi
Associate Editor,
091810132736
BACKGROUND INFORMATION FOR CONTRIBUTORS
WHO CAN WRITE IN ICB?
"Institutionalised Children: Explorations and Beyond" is an international, peer-reviewed journal, and our issues are composed of papers submitted by policy makers, mental health workers, researchers, academicians, social workers, and all other individuals and organizations who are involved in the field of care and management of institutionalised children, or other forms of alternative care.
ICB PURPOSE:
Our goal is to solicit papers from such professionals and NGOs, operating and working within the eight SAARC countries, to foster a climate of dialogue, collegial exchange and communication of best practices, so that we can learn from each other and share what has worked in different situations. We value contributions from all authors, who would not have to deal with aggressive editorial comments for a paper to be published.
CONTENTS OF THE JOURNAL:
Journal themes will cover a wide range of topics pertinent to alternative care. From time to time, a 'Special Edition' issue may be devoted to a particular theme. The following are our Special Edition issues, published thus far and forthcoming; Published
Special Issues
Depression in Children and Young Persons Living in Alternative Care (Vol. 4 No. 2, September, 2017)
Evolving Trends in Alternative Care for Children in South Asia (Vol. 5 No.1, March, 2018)
Aftercare (Vol. 5 No. 2, September, 2018)
Child Sexual Abuse in Alternative Care Settings (Vol. 6 No. 1, March, 2019)
Caregivers (Vol. 6 No. 2, September, 2019)
Deinstitutionalisation (Vol. 7 No. 2, September, 2020)
Alternative Care in Times of COVID (Vol. 8 No. 1, March, 2021)
Alternative Care for Children and Young Persons with Different Abilities (Vol. 9 No. 1, March 2022)
Aftercare and Care Leavers (Vol. 9 No. 2, September 2022)
Child Trafficking and Alternative Care (Vol. 10 No.1, March 2023)
Upcoming
Tracing the Evolution of Alternative Care in the South Asian Countries in the Last Decade and the Way Forward (Vol. 10 No. 2, September, 2023).
Every effort will be made to have representation from all the South Asian countries. Authors are encouraged to submit their ideas for particular themes and can work with the editor-in-chief to develop their ideas into a special issue. We hope to encourage creativity in thinking and promote a desire to develop new initiatives in research and care in this field. Authors who are interested in editing a special issue should contact or icbjournal@udayancare.org
The ICB Journal will be comprised of 10-12 unpublished contributions in total, which would comprise of 5 - 7 research articles (approximately 3000 words in length), and other sections including an 'Expert Interview', 'Opinion Piece', 'Good Models and Practices in Alternative Care', 'International Perspective', 'Movie Review', 'Book Review', 'Brief Communications' and 'Upcoming Events', with an Editorial and Foreword to the topic written by the editor-in-chief or editor. The Foreword leads the reader into the issue, making the case for the timeliness and significance of the topic being written about. To elaborate, the journal will include:
An in-depth-interview with an individual who has contributed significantly to the field (from any of the SAARC countries). Submissions of names for an interview of a prominent individual or organization involved actively in child management, policy and protection rights can be made directly to Dr. Kiran Modi and/or Dr. Monisha Akhtar on icbjournal@udayancare.org.
Unpublished Manuscripts from individuals who conduct research with orphaned and abandoned children and those in need of protective care. The section will provide for scholarly literary input on various topics related to the population under consideration;
A paper on Good Models and Practices in Alternative Care will be selected to provide a comprehensive review of how institutional care is provided in different settings, highlighting strengths and positive practices that can guide and inform;
Manuscripts on International Perspectives will be obtained from outside the SAARC region. These articles will examine issues of orphan care and children in need of protection. These articles may cover issues of policy, childcare management, alternative methods of service delivery and legal issues. Furthermore, research initiatives regarding comparing and contrasting different models of care that constitute best practice will be encouraged;
Reprints of original articles published elsewhere can be considered if the article is considered as contributing to the field. Not more than two papers will be considered for reprinting in any journal issue;
An Opinion Piece from experts in the field, reflecting the author's opinion about a particular subject relevant to alternative care, not exceeding 1500 words
Movies and Book Reviews on orphan care or vulnerable children, not limited to authors within the SAARC region. Reviews should not exceed five pages;
Brief Communications do not require any abstract. Manuscripts submitted for inclusion in this section should not be more than three pages and can cover highlights of upcoming conferences addressing policy issues, alternative care strategies, working with vulnerable children, working with caregivers, working with children who have been sexually abuse, have HIV/AIDS, other disabilities or are otherwise in need of care and protection. Brief summaries of projects being conducted primarily in the SAARC region, but not limited to these SAARC countries alone, can be submitted for consideration in this section. These brief abstracts can later be developed by the author into a full manuscript and submitted for consideration in another forthcoming issue;
CONTRIBUTING MANUSCRIPTS
Subjects:
Manuscripts can address research issues, issues of child care and policy, legal concerns related to child care and management issues, children's home care strategies and care-giver solutions, developing home monitoring systems, children with special needs such as disabilities, juvenile delinquency, or children diagnosed with HIV/AIDS. Regional and local issues can be considered. Manuscripts addressing issues related to 'good practice' are encouraged. The journal encourages articles aimed at regional collaborations.
Style:
The journal will follow American Psychological Association (APA) Style sheet. The contributors are requested to put their article and references according to this style sheet, Should they be unable to, the journal editors shall make some cosmetic changes to the article to suit this requirement. For more information on APA Style Sheet, please visit the APA website: https://apastyle.apa.org/learn/quick-guide-on-references https://apastyle.apa.org/learn/quick-guide-on-references
Format:
Each manuscript should be double spaced in 12 points and begin with the title of the paper followed by an abstract of no more than 500 words. A few keywords identifying the main ideas contained in the paper should follow. This should be followed by the author's name, professional affiliation and e-mail contact. The manuscript should contain a brief Bio that includes a maximum of three affiliations for each author. The author's name and address should not appear on any subsequent pages.
Abstract:
All manuscripts must include an abstract. Abstracts describing the essence of the manuscript, must not be more than 500 words, and must provide a brief overview of the aims, method and major findings, without any citations. Authors may consider submitting an abstract with keywords for a quick and initial review prior to commencing work on their main paper..
Keywords:
Please provide together with the abstract, a list of 5 to 10 keywords, which most closely reflect the content of the submission. The keywords must complement the Abstract and will be useful to categorize and locate the main paper once submitted. Furthermore, these keywords will help trace the article online, increasing the possibility of the paper being cited in subsequent global research. Hence, appropriate keywords are of the essence.
Headings:
Headings should be used to help organize the manuscript. Typical headings for research articles include review of literature, method, results, discussion, and references. For theoretical manuscripts, authors are encouraged to use headings that clarify the flow of the manuscript as well as assist the reader in understanding the content of the paper. Section headings should be concise.
References:
All in-text citations and references must be complete and accurate on submission and follow the format and style described in the APA Style Sheet. Papers will be declined for publication if they have references that are found to be incomplete or inaccurate. References should be selective, appropriate, and easily accessible.
Figures & Graphs:
Prior to sending figures, the separate files of figures, graphs, illustrations etc., should be printed by the author to test that the fonts have been embedded correctly and there is no distortion in the artwork (e.g., lines and fonts reproduce cleanly with no jagged lines or fuzzy edges), as any such faults cannot be corrected by the publisher. Colour figures will be reproduced in colour only in the online edition of the journal.
Read More: Follow the below link for more information on guidelines for submission
https://uk.sagepub.com/en-gb/eur/institutionalised-children-explorations-and-beyond/journal203666#submission-guidelines
MANUSCRIPT SUBMISSION:
During manuscript submission, authors are required to disclose the nature of any competing and/or relevant financial interest. The statement should describe all potential sources of bias, including affiliations, funding sources, and financial or management relationships, that may constitute conflicts of interest.
The submitting author must provide contact information for all co-authors. The author who submits the manuscript for publication accepts the responsibility of notifying all co-authors that the manuscript is being submitted. If any of the named co-authors moves affiliation during the peer review process, the new affiliation can be given as a footnote. Deletion of an author during the peer-review process requires a confirming letter to the Editor-in-Chief from the author whose name is being deleted. Please note that no changes to affiliation can be made after the manuscript is accepted.
By submitting your paper to ICB, you are agreeing to any necessary originality checks your paper may have to undergo during the peer review and production processes.
Where to send the manuscripts:
Institutionalised Children Explorations and Beyond is hosted on SAGE Track SAGE, a web based online submission and peer review system. Visit https://peerreview.sagepub.com/icb to login and submit your article online. You can submit your abstracts to icbjournal@udayancare.org
IMPORTANT: Please check whether you already have an account in the system before trying to create a new one. If you have reviewed or authored for the journal in the past year it is likely that you will have had an account created.
For any further assistance, please feel free to contact:
Dr. Monisha Akhtar, Editor-in-Chief
E-mail: monisha_akhtar@hotmail.com or, icbjournal@udayancare.org
Your SAGE Production Editor will keep you informed as to your article's progress throughout the production process. Proofs will be sent in PDF to the corresponding author and should be returned promptly.
PUBLISHING ETHICS:
ICB considers all manuscripts, whether original or already published, on the strict condition that:
1. Original Articles can be accepted for publication only if they are contributed solely to the ICB journal. The manuscript must be the author's original work, and must not duplicate any other previously published work, including author's own previously published work;

The manuscript has been submitted only to the journal - it is not under consideration or peer review or accepted for publication or in press or published elsewhere;

3. All listed authors know of and agree to the manuscript being submitted to the journal;

Authors of articles already published in foreign-language journals should communicate with the Editor before sending manuscripts. An article already published in another journal may be considered, based on the importance of the topic discussed. All permission rights, however, must be obtained prior to submission for consideration to the ICEB journal;

5. The manuscript contains nothing that is abusive, defamatory, fraudulent, illegal, libelous, or obscene.
PEER REVIEW

:
ICB follows a double-blind peer-review process. The editors ensure that all manuscripts submitted for publication will be reviewed by experts from the field. However, the final decision of the publication of a manuscript will rest in the hands of the Editor-in-Chief, who will evaluate the manuscript, keeping in mind the peer reviewer's suggestions, on the basis of the validity of the work in question, its importance to researchers and readers, and its contribution to the field of work, in this case, alternative care of children. The anonymity of the peer reviewer shall be maintained, with no information regarding their identity intimated to the authors.
Read More : Publication Ethics and Publication Malpractices Statement
ACCEPTANCE OF MANUSCRIPTS:
The final decision on the acceptance or otherwise of the paper rests with the Editorial Board and depends entirely on its standard and relevance. The final draft may be subjected to editorial amendment to suit the ICB requirements, to ensure that reasonable standards of content, presentation and readability are maintained. We usually accept the papers that are sent as is, unless we feel that it might be enhanced with a minor suggestion that might only strengthen the paper. We accept papers on an ongoing basis, though some issues of the journal will have specific topics that they will address. Therefore, we might hold onto some papers that we receive so as to publish them in an issue of the journal more suited to the topic being written about. However, authors are free to withdraw their papers if they wish to submit it to another journal. We do ask that authors give us permission to hold onto their papers for at least a year so that we consider them for publication in another upcoming issue.
COPYRIGHT:
The copyright of the contributions published in ICB, unless otherwise stipulated, rests with Udayan Care. We also reprint if worthy. To assure the integrity, dissemination, and protection against copyright infringement of published articles, you will be asked to assign us, via a Publishing Agreement, the copyright in your article.
Under the conditions detailed on the Journal's standard transfer of copyright form, when an article is accepted, its authors are free to post their version of the accepted manuscript on a website or repository.
Subscription Correspondence may be addressed to:
Dr. Kiran Modi
Associate Editor
ICB Journal
E-mail: kiranmodi@udayancare.org or, ICBjournal@udayancare.org
Disclaimer: "Articles published by the Journal: "Institutionalised Children: Explorations and Beyond" (ICB) reflect the views of the author alone and not necessarily those of Udayan Care or of the ICB."